Hospice Care at Home: What to Expect
August 10, 2021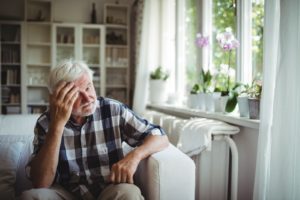 Caring for a family member with a terminal illness is a difficult task that can be mentally and physically straining.
The decision for a patient and family to choose hospice care can be challenging. A caregiver who feels they have been doing the job well may be hesitant to allow a hospice team to take care of their loved one. Some caregivers may not feel comfortable with hospice team members in their homes.
The primary goal of hospice care is to provide comfort care and support for the patient and family members. Our compassionate hospice care team is here to provide support and care for you and your loved one with the same love and respect as our own family.  
The Patient and Family are at the Center of Our Care
Your care team at EverHeart Hospice generally will include a hospice physician, nurse practitioner, hospice nurse, hospice aide, social worker, chaplain, bereavement coordinator, music therapist, and volunteers. 
At EverHeart Hospice, we provide the highest quality of care for every patient. Our professional care team provides care and support through the entire journey of end-of-life care needs, becoming part of your family, and your family will find yourselves looking forward to our next visit.
Our compassionate, professional care allows your family to spend more quality time together, creating treasured memories to be cherished forever.
Admission to Hospice
Once qualified for hospice care and all admission documents are completed, the patient will be officially admitted to hospice care. Our hospice care team will work with the patient's primary physician and hospice physician to develop a specialized plan of care based on the patient's medical history and current symptoms. 
Your team will deliver the necessary medical equipment to your home.

We will deliver any necessary medication in your hospice care plan.

We will educate and provide information on pain and symptom management throughout the end-of-life journey.

You will receive all contact information for your care team and how to reach your hospice care team if you have any questions, concerns, or scheduling changes. 

Our 

social workers 

will visit and provide emotional support, address financial concerns, provide education on hospice,

advance directives, living wills

, and end-of-life issues.

Our chaplains will visit to provide spiritual support for the patient and family. Our chaplains tailor their support to meet the patient in their spiritual journey.
Individualized End-of-Life Experiences for Patients and Families
Your hospice care team will work with the patient and family to create a plan of care that provides comfort and accommodates the patient's needs and goals. Once our initial plan is created, we continuously work with the patient and family to adjust based on the patient's goals and condition. 
Throughout the patient's end-of-life journey, the patient and family are the core of the hospice care team. Our highly skilled professionals work with you to understand the goals and needs, so we know the best approach to providing personalized care to your loved one.
A Trusted Leader in Hospice Care
EverHeart Hospice is an established, trusted leader in the hospice field. Our sincere, caring, and compassionate team recognizes their work as a calling and a purpose. EverHeart Hospice has been honoring life with trusted care for over 40 years.