When Will My Grief Go Away?: Coping with Loss
October 12, 2021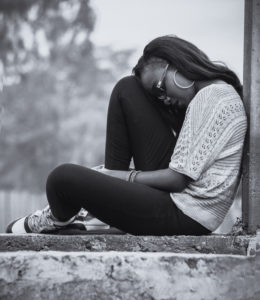 Grieving the loss of a loved one is one of the most painful experiences in life that never entirely goes away; as time passes, you learn to cope with it. The grief experienced with the loss of a loved one may linger for years into the future. While there's no way to remove the suffering altogether, there are ways to help cope with it.
The grief and healing process from the loss of a loved one is unique to each individual. There is not a precise time that grief will last. It can potentially trigger reminders from a loss years later from anniversaries, holidays, birthdays, and any particular place or event that can be associated with your loved one. Even sights, sounds, and smells can unexpectedly surface the emotions of a loss.
Learning to Cope with
Grief
When confronting the loss of a loved one, the natural reaction will likely be feelings of many overwhelming emotions. It takes time to accept the loss and learn from the experience. While experiencing the grief of losing a loved one — regardless of how much time has passed — there are strategies that you can use to help cope with the loss:
Unexpected reminders of the loss of a loved one
Emotional responses may occur unexpectedly when specific triggers are present. Even years later, a reminder of a loss can trigger grief when memorable experiences with a loved one we have lost are recalled. These reminders can come in many forms, such as meaningful dates, locations, music, scents, and other memories that connect us to our loved ones. While it's impossible to plan for unexpected reminders, you can find support and be prepared for occasions that you know may bring up overwhelming emotions. 
Moving past the pain at any stage
Finding the strength to move forward after losing a loved one doesn't mean the pain associated with that loss will come to an end. The grief from a loss will become easier to cope with over time, but it can become a part of who we are as a person. Cherished memories created and the love you had for the one that passed will always remain. 
Turn to Others for Comfort and Support
When you lose someone you love, it's normal to isolate yourself and want to be alone. Regardless of the amount of time that has passed since the loss of your loved one, it is essential to be with others in your life that care about you and can provide comfort during the episodes of grief. Proper support will help you through this difficult time. At EverHeart Hospice, we offer bereavement support for 13-months after the loss of a loved one.
Find comfort in your faith
If you're religious, your faith can provide comfort through the grieving process. Staying involved in your faith and attending services can help you be around others that share your faith and give you support that can help you persevere. 
Ask Friends and family for support
Even those closest to you can struggle to know how to help during a time of grief, so don't hesitate to tell others what you need—whether it's helping with funeral arrangements or just being around to talk and share feelings. Family members and good friends will be there for you for decades to come and can offer ongoing support.
Celebrate your loved one's life
As you move through the grieving process, finding ways to hold on to the memory of your loved one can help with the healing process. This may include keeping a journal, working on a scrapbook or photo album of the precious memories shared, or planting flowers or a tree in your loved one's memory. Even simple acts such as visiting a place you enjoyed together or lighting a candle in remembrance can be helpful.
Find comfort in routine
When grieving, there is comfort in continuing the routine you shared with your loved one including listening to music, taking walks, or attending events. There's comfort in routine as time passes; continuing these activities can help the healing process. 
Self-Care During Grief
During the loss of a loved one, it is easy to let self-care slip away. Maintaining activities you enjoy, exercising, and eating well will help keep grief from becoming too much. Self-care helps relieve the pain and emotions that occur after losing a loved one. Neglecting your well-being after a loss may even extend the grieving process, creating more of a chance for depression or mental health issues. There are steps that you can take to help alleviate the pain and improve your well-being:
Healthy diet and rest 
Maintaining a healthy diet and getting enough rest is a significant component of coping with grief. When we neglect a healthy diet and sleep, it can lead to the possibility of experiencing complicated grief, making the ability to manage everday life increasingly difficult. 
Managing stress
After losing a loved one, the thought of exercise and physical activity is most likely the last thing on your mind. Staying active is a powerful way to manage stress. If you find it challenging to get enough rest, exercise is a great tool to help with sleep. There are many ways to find relaxation, including yoga and meditation. 
Avoid self-medicating your pain
It can be easy to fall into a spiral of substance abuse to numb the pain associated with grieving. The excessive use of alcohol or drugs will only lead to additional problems down the road and prohibit your ability to cope effectively. 
When Will the Pain End?
When you lose a loved one you cared for immensely, you will never be the same person. After going through the loss of a loved one, there are plenty of life lessons to be learned. One such lesson is gaining a new perspective on how incredible and special that love and life can be. The pain you feel will become more manageable as you begin to accept the loss through the guidance outlined here. 
The difficult part is allowing yourself to let those painful emotions out, even though you would like to avoid them. When going through the loss of a loved one, keeping those emotions bottled up will only prolong the grieving process. With the proper support and guidance, you will begin to accept the loss, find meaning, and ultimately make it through this difficult time. 
At EverHeart Hospice, we provide bereavement support to anyone in the community, free of charge. If you would like more information on how we may help you through your grief journey, visit our website everhearthospice.org, or contact a team member at 1-800-417-7535.