What Do Hospice Social Workers Do?
August 9, 2022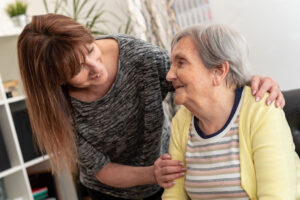 A Career in Social Work
According to the U.S. Department of Labor, Social Work is one of the fastest growing careers in the country. To describe it simply, social workers help people help themselves and work to improve the lives of others. The profession is expected to grow by 12% by 2030. Choosing a career in Social Work is a path that is not only secure, but very rewarding as well.
Social workers have the ability to work in a wide variety of settings. These include healthcare, mental health and substance abuse, justice and corrections, public welfare, and schools to name a few.
Social Work in the Hospice Field
One area of healthcare that social workers can choose to work in is hospice care. Hospice is a special type of care designed to help people with a terminal illness live comfortably as they approach end of life. The focus of hospice is quality of life rather than a curative scope. The end-of-life journey is often emotionally difficult for patients and their families. Hospice Social Workers offer support to bring relief to people at this stage of their life.
Sara Ransdell, MSW, LSW, has been with EverHeart Hospice for a little over three years now.
"I was timid when first starting at Hospice, but I am more knowledgeable with providing education, resources, and end-of-life support. I have grown in sincerity and confidence while being with hospice," shared Ransdell.
EverHeart Hospice social workers collaborate with an interdisciplinary team that also includes physicians, nurse practitioners, nurses, aides, chaplains, music therapists, a bereavement coordinator, and volunteers. Social workers support our patients' emotional, psychological, and social well-being. They help facilitate conversations and resolve conflicts between families and caregivers about the patients' goals and wishes that may be difficult for those involved.
Building Connections and Serving Others
Helping patients live with dignity and protecting them from harm is an important part of the job. Social workers connect patients with living options that meet their level of care needs. This could include arrangements for moving to an assisted living or nursing home and making sure the appropriate paperwork is completed. Counseling can be offered to patients as they cope with the changes that are taking place.
"Meeting a patient where they are at in time has been such an important reminder to myself.  This is their journey, and I am just along for the ride," noted Ransdell.
For people looking for a career that is hands on and rewarding, hospice social work is a great fit. Social workers visit patients at a vulnerable stage of their life. They have the opportunity to leave a positive mark on the family and loved ones. Often families are in distress and exhausted by the time their loved one is ready for hospice. Connecting them with support and resources can be a huge sigh of relief. Visiting patients wherever they call means you will be able to work in a variety of locations and see new things each day.
Required Education and Skills
To work for a hospice organization, social workers must be licensed in addition to earning their master's or bachelor's degree in social work degree. People with strong communication skills and the desire to help others would be a good fit for this career.
Sara Neal, BSW, LSW, is a new social worker with EverHeart Hospice but is already seeing the impact she has on patients and families.
"I can see that the patients and families are reaching out for someone to listen, and I enjoy helping them come to peace," shared Neal.
EverHeart's Culture and Community-Focus
The opportunity to help the community does not stop with direct patient care. Throughout the year, EverHeart employees have the opportunity to take part in events such as our annual children's bereavement camp, awareness campaigns such as the Walk to End Alzheimer's, serving meals at the local food pantry, and our annual Time of Remembrance Luminaria.
EverHeart Hospice is a non-profit organization that was founded in 1981 by a group of volunteers who saw the need for hospice in the rural community. Today, our mission remains to serve our communities by providing compassionate hospice and palliative care to patients and families experiencing a life-limiting illness.
To find more information about current career opportunities at EverHeart, visit our "Employment" tab or click here.