Children grieve differently than adults and have special needs to work through their grief and loss. EverHeart Hospice provides an important outreach for them – a grief camp for children called Camp Encourage. Camp Encourage creates a welcoming and supportive space for kids ages 6-15 who are grieving the loss of a loved one. We want them to know that they are not alone with their feelings and that there are ways to cope and heal. We encourage positive coping skills and open discussion regarding feelings and loved ones. Camp Encourage creates a supportive and safe space for kids to be themselves and know they are not alone.
Camp Encourage has a long-standing tradition celebrating over 20 years of support for our grieving families. Children who have attended have found validation, reassurance, and the ability to express themselves in a positive manner. Campers can expect to have fun, learn about their feelings, and honor their loved ones.
CLICK HERE for details on 2023 Camp Registration or to learn how you can volunteer at this event.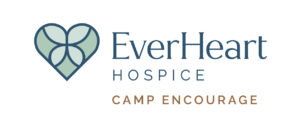 Interested in Camp Encourage? Learn more about this year's program and how to apply.