2020 Community Benefit Report
October 6, 2020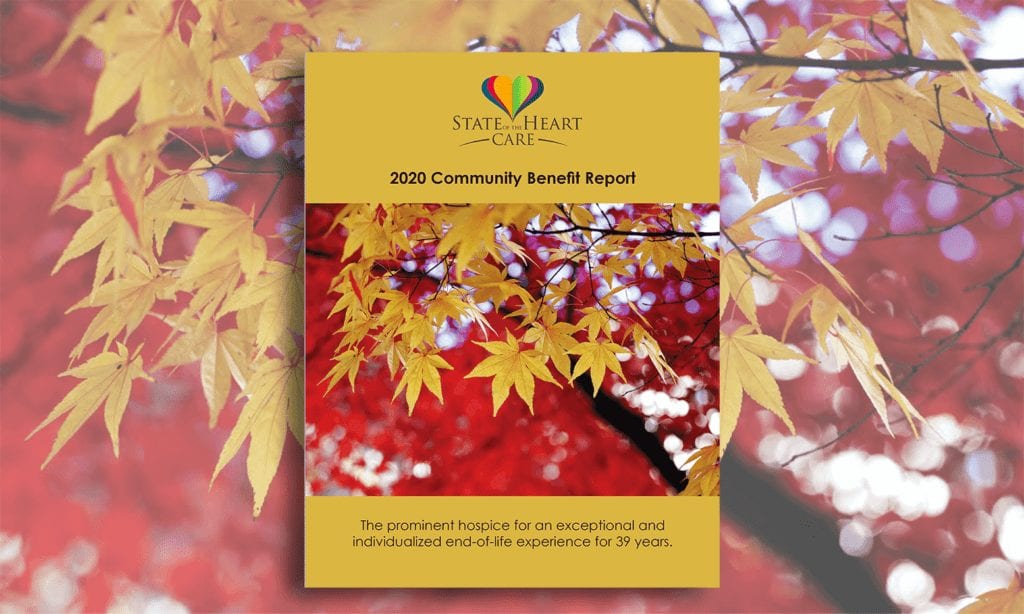 We are very pleased to present to you our first annual Community Report for our fiscal year 2019-2020. We were blessed at State of The Heart Care to serve our communities with hospice and palliative care. Over the past year, we reflected on what it truly means to provide hospice care to our communities. We turned to our partners and community to offer feedback about our organization and our services. When completing a survey and answering what one word describes our organization, they responded with the words "compassion, professional, caring, and excellent." We used this feedback to help us to reshape our mission and adopt organizational values. 
Those who choose State of The Heart Care for end of life care can trust that we understand what a vulnerable and important time this is for not only the patient but also the family. We have received feedback from families who state they expected great care for their loved one; however, they were not prepared for how our organization would wrap our arms around the whole family of the patient we are serving. We understand that this is an end of life experience and it must be approached with care, compassion, professionalism, and excellence. 
As 2020 approached, and the COVID-19 pandemic occurred, we quickly developed strategies of how to continue to provide excellent hospice care safely as we faced many challenges. In the third week of March, as we navigated the pandemic, our family at State of The Heart Care experienced the loss of one of our staff members. This member of our work family exemplified our values and mission of our organization. We are blessed with employees that believe so deeply and are dedicated to the important work that we do at State of The Heart Care. Our commitment to providing excellent end of life care and serving our mission is unwavering even during a pandemic and the grief that our work family experienced. How amazing it is to have the opportunity to honor and respect another person's life and journey. 
"We cannot change the outcome, but we can affect the journey." Ann Richardson