When Should Patients with Kidney Disease Call Hospice?
March 8, 2022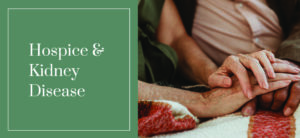 Each person has two kidneys in their body. Kidneys filter all of your blood every 30 minutes, removing toxins and excess water from your body and eliminating it as urine. 
What is Kidney Disease?  
Chronic Kidney Disease (sometimes referred to as chronic renal disease or CKD) is a condition characterized by a gradual loss of kidney function over time.
According to the National Kidney Foundation, 1 in 3 American adults is at risk for kidney disease and 37 million people have currently been diagnosed.  
Risk Factors for Kidney Disease
The two most common risk factors for chronic kidney disease are diabetes and high blood pressure. Risk factors also include:  
Heart disease

 

Obesity

 

Family history of CKD or kidney disorders

 
Past damage to kidneys

 

Older Age

 
How do you know you have kidney disease? 
Some people may be unaware that they have chronic kidney disease. As the Mayo Clinic states, signs and symptoms may not be noticeable in the beginning. It is also difficult because some of the most common early-stage symptoms are also caused by other illnesses. If you or your physician suspects you may be suffering from kidney disease, they may recommend imaging or testing your blood and urine.  
How does kidney disease progress?
Kidney Disease progresses through five stages: Stage 1 through Stage 5. The Cleveland Clinic states the stages range from mild during Stage 1 to Kidney Failure during Stage 5. Each stage is based on the performance of the kidneys and how well they continue to filter blood.  
A healthcare provider can determine the current stage of kidney disease based on your glomerular filtration rate (GFR). This rate is calculated by the amount of creatinine (a type of waste) found in the blood. Your age, race, and gender can also impact your GFR.  
Stage 1 and Stage 2 Kidney Disease
Both stage 1 and stage 2 of chronic kidney disease are very similar and considered mild stages. In stage 1, kidneys may show minor damage but are still functioning like normal. By stage 2, there may be mild loss of kidney function. 
During stage 1, the GFR will be 90 or greater. Stage 2 presents a GFR of between 60 and 89. A patient will likely have protein in their urine during both stages. The American Kidney Fund explains that many people won't experience any severe outward signs or symptoms until stage 3.   
However, there are a few signs that you or your doctor may notice during stage 1 or 2. These signs and symptoms include:  
Protein or blood in your urine

 

Urinary tract infections

 

Swelling in your hands or feet

 

High blood pressure

 

Visible kidney damage during a CT scan, ultrasound, MRI, or biopsy

 
The focus of your physician at this time will be to prevent any further kidney damage that may occur for as long as possible.  
Stage 3 Kidney Disease
According to the Mayo Clinic, Stage 3 is the most common stage of the disease. The GFR during this stage will be between 30-59. Symptoms may now include: 
Changes in urination

 

Swelling in hands and feet

 

Weakness or fatigue

 

Dry and itchy skin

 

Back pain

 

Muscle cramping

 
Your primary care provider is likely to make a referral to a kidney specialist.  
During stage 3, loss of kidney function will be moderate to severe. At this point, kidney damage is typically not reversible.  
To help protect your kidneys, your doctor may suggest meeting with a dietician to incorporate renal-friendly foods into your diet. Incorporating healthy habits and a treatment plan with a physician can help you stay in stage 3 instead of progressing to stage 4 or 5 of kidney disease.  
Stage 4 Kidney Disease
This is the final stage before reaching kidney failure. The GFR at this stage will be between 15-29. Due to severe loss of kidney function, waste products build up in the body that can cause other health concerns. These can include: 
Anemia

 (not enough red blood cells in your body) 

 

Bone disease

 

Heart disease

 

Metabolic acidosis (a buildup of acid in your body)

 
Your doctor may treat these additional concerns with medications, lifestyle recommendations, or ask you to consider treatment options such as dialysis or a kidney transplant. It is important to consult with your doctor regularly during this stage. 
With so many symptoms occurring and doctor's visits to manage, Palliative Care from EverHeart can help you control symptoms from your disease and side effects from treatment. A nurse practitioner will make recommendations to keep you comfortable and follow up with you as you continue your treatments. 
Stage 5 Kidney Disease
When a patient reaches Stage 5 of kidney disease, they are likely experiencing kidney failure. The GFR will be less than 15. The National Kidney Foundation states that 660,000 people are currently living with kidney failure. At this stage, patients may need kidney dialysis or a kidney transplant. As shared by the National Kidney Foundation, 100,000 people are currently on the kidney transplant list.  
The main concern during this stage may be how to keep your loved one as comfortable as possible, as they may have an increase in pain. You and your loved one may decide to no longer seek treatment. This may be a good time to consider Hospice Care.  
Can Hospice help patients with kidney disease? 
As kidney function decreases, you or your loved one may need more care to help with the increase of pain and symptoms. The entire care team at EverHeart Hospice works together to assist patients and families with end-of-life needs through their entire journey. 
How to Start Hospice Care: 
Contact EverHeart Hospice at 1-800-417-7535 for more information on our Palliative and Hospice Care services. We are available to answer calls 24 hours a day, 7 days a week. You may also learn more about our services at www.everhearthospice.org.  
Download our free guide:
Want to know more about the difference between Palliative Care and Hospice? Click the link to download your free guide!