Brittany Scott Passes NCLEX Exam
August 25, 2023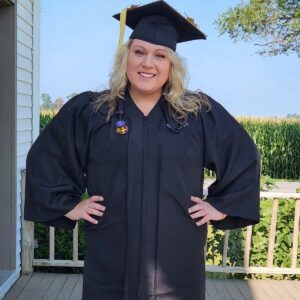 EverHeart Hospice is pleased to announce that Brittany Scott has passed her NCLEX exam to become a Registered Nurse. Scott attended the first and only Advanced LPN to RN Nursing School at Miami Valley Career Technology Center.
"I have always wanted to be a nurse even as a little girl," shared Scott. "My mother Tonya Cline raised me around the medical field my whole life working in it herself. I feel that nursing chooses you instead of you choosing nursing!"
A Registered Nurse (RN) helps coordinate patient care and develop care plans, whereas a Licensed Practical Nurse (LPN) provides more basic nursing care and usually works under the supervision of an RN.
As an RN, Scott looks forward to better serving her community. She has a background as a certified wound nurse. Watching her patients heal before her eyes was always an amazing experience.
Just like any career, there are hard days in nursing, but seeing the smiles on patient's faces makes the tough times worth it. The thing she likes most about working in hospice care is impacting the amazing people in our community in their difficult time of need. It is truly an opportunity to make a difference for them.
"My advice for anyone considering nursing as a career is to go for it," she explained. "It will be the most rewarding job of your life!"
EverHeart Hospice has provided compassionate hospice and palliative care in the community for 42 years. Hospice is a specialized care for people with a terminal diagnosis who are nearing end-of-life. To learn more about how EverHeart Hospice can help a loved one stay comfortable and live their days at home, visit their website at everhearthospice.org or call 800-417-7535.