EverHeart Hospice Patient Paints a Picture of Adventurous Life
August 16, 2023
*Story contains mature subject matter regarding artwork 
Entering Isabel Culbertson's home feels just like walking into a professional art gallery.  Her walls are perfectly lined and organized with images of flowers, models, pets, and landscapes.  While the collection of paintings is very different, they lend a cozy feeling to her home with the same warm-toned colors.  
An artist for most of her life, Isabel shared that her favorite style is painting still-life items or models.  She thinks she has completed over 133 paintings over the years.  When asked what her favorite thing to paint is, she quickly responded, "Nudes.  My father was also an artist and liked to paint nude portraits.  When he passed, the only painting I wanted from his collection was of a breast.  My stepmother would not let me have it, so I told myself right then that I was going to teach myself to paint, and I was going to be damn good at it."   
The use of nude models in art is considered an academic classification. In fact, many art historians consider it one of the most important subjects in the history of Western art. For the Ancient Greeks, nudity in art was an expression of integrity. They viewed the body and spirit as fully entwined. The nude in Greek art held a moral component as it was believed to represent the highest form of virtue and honesty, and therefore was not viewed as obscene. Even the athletes in the original Greek Olympic games competed in the nude. Earlier civilizations related the nude to the likeness of mother earth and as a sign of fertility. 
While some may shy away from this genre of artwork, Isabel is very proud of the portraits of models she's painted and shared a special memory associated with her favorite painting of her father's that inspired her future love for painting.  Isabel laughed, saying, "My father had that painting hung up right over our dining room table.  People would ask him all the time why he liked it so much.  He always responded, "Because it reminds me of my first supper."  
Isabel attended art classes all over the country, learning from many different artists.  During her training, she was taught to paint the same image 10-100 times, as the more
you paint it, the better you are.  Isabel accomplished this training with her many paintings of the famous artist Frieda Kahlo.  Isabel stated, "I don't like her work, but she's an interesting character.  I've done like 35 pictures of Frieda." But when asked what her favorite painting she's created is, she will point you towards the kitchen to a large canvas centered on the wall of a rooster and basket filled with bright yellow sunflowers, "It's one of the best ones I've done."  
Art is not the only hobby Isabel is passionate about.  She grew up in Anderson, Indiana, and she and her family would attend Indy car races quite often.  However, she particularly likes foreign and grand prix cars and even had the opportunity to participate in the 24-Hour Le Mans race in France, where she helped keep time as part of a pit crew.  Isabel smiled as she shared, "That was as close as I've ever gotten to being a jet setter."  
Her time in France and later in Italy led to a deep appreciation of the beauty in Europe and a shared love for their lifestyle.  "I thought I should have been born in France," said Isabel.  Her favorite adventure when reflecting on her trips to various countries and throughout the US was a cross-country road trip with her friend Barb.  They traveled from Ohio to California, driving a convertible through wine country.  "When we were leaving for the trip, we were pulling out of the driveway saying goodbye to Dave, my husband, and Barb said, "Thank you, Dave, for letting her drive out with me," and he replied, "She hasn't asked me yet."  
Isabel has long supported EverHeart Hospice since her husband of 34 years, David Culbertson, utilized their hospice services.  After he passed, Isabel knew she wanted to become more involved with the non-profit, as she believed in their mission and the care they provide to those nearing the end of life.  She joined the EverHeart Hospice Women's Giving Circle in 2019 and has since contributed to many new programs that wouldn't have been possible without this additional funding given each year to the organization.  
While Culbertson may not paint as much as she once did, her love for art and the pieces surrounding her is still very much evident: "Whoever lives in my house after me will have their work cut out for them with all the nails in the wall.  But I appreciate all the paintings I've done and collected too much to have them sitting in a corner.  I want them out so I can enjoy them." She hopes to regain some strength in the coming weeks to work on her art once more and possibly attend a painting class at Memorial Hall again.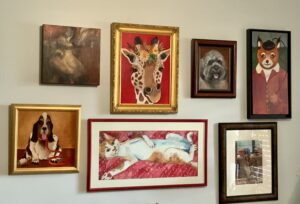 Isabel chooses to remain in her own home as long as possible and appreciates the support she receives from her entire care team at EverHeart Hospice, now as a patient herself.   
The care they provide each week enables her to maintain her independence through this next stage in her life.  "I like the concept of hospice.  I like everybody so far.  It is a good cause, and I plan to continue contributing to the Women's Giving Circle."  
Isabel enjoyed reflecting on her adventures in a life filled with art and travel.  She did insist on one piece of advice that she wanted young adults to take to heart, "Travel now while you can.  Try to go as much as you can."