Erica Wood Receives Philanthropy Certification
August 1, 2023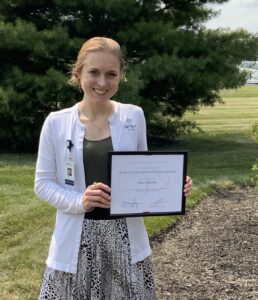 EverHeart Hospice congratulates Erica Wood, Business Development Specialist, for earning her Philanthropy Certification. Wood completed her coursework online through the Lily Family School of Philanthropy at Indiana University-Perdue University Indianapolis.
"I started my career at EverHeart in the finance department, which opened my eyes first-hand to the reason fundraising is so important for sustainability," she shared. "As a non-profit, EverHeart Hospice never turns away patients due to their inability to pay for healthcare or because of the kind of insurance they hold, and this is thanks to the generosity of donors in the community."
Some of the takeaways from the classes were surprising.
"I used to think events were the best way to raise funds, but I learned that the ideal practice is to connect individually with donors and find ways for them to be more involved with the organization to truly see how their gift is making a difference," shared Wood.
In the future, Wood hopes to shift the purpose of events to foster connections with the community and families served by EverHeart.
"While it was hard to balance the classes with normal daily tasks, it renewed my excitement to bring new ideas to the business development team and the agency as a whole," Wood shared.
EverHeart Hospice provides comfort to patients in the end stages of a terminal illness with office locations in Greenville and Coldwater, Ohio and Winchester Indiana. They also operate an inpatient hospice care center on the 4th floor of Wayne Healthcare. For more information, visit everhearthospice.org