EverHeart Hospice Hosts Camp Encourage
July 18, 2023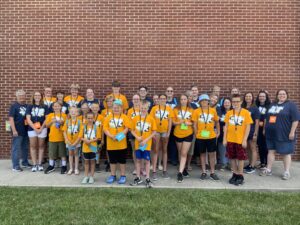 EverHeart Hospice recently held their annual Camp Encourage to support children in the community who are grieving the loss of a loved one.
The theme this year was "Colors, Coping, and Connection" and focused on providing healthy coping skills and showing kids they are not alone in their feelings surrounding grief and loss.
The kids attendin
g camp have been through some hard, often traumatic situations, and the types of losses children are experiencing seem to be intensifying. Watching the kids open up to each other and the camp staff over the course of the weekend proved how important this camp really is for healthy growth and coping.
Activities throughout the weekend included team building and trust exercises, music therapy, creating a "grief blueprint" with paint, making memory jars, a Q&A session with a panel of experts, and a scavenger hunt. There was also time for the kids to run around and pl
ay and form friendships with each other.
It takes a large group of volunteers to make this event a success. Throughout the volunteer training process, the helpers were reminded that we can't simply "fix" grief, but we can walk alongside it be there for support. Grief is not just something you get over; you learn to grow around it.
Children grieve differently t
han adults and Camp Encourage creates a safe place for them to be themselves and share their feelings as they choose. It is a long-standing staple in the community with over 20 years of supporting children. The Camp Encourage team included music therapists, a chaplain, nurses, a social worker, and support staff and volunteers. Thanks to the generosity of donors and grants in the community, Camp Encourage is offered free of charge.
For more information about Camp Encourage, visit everhearthospice.org. Information about signing up for Camp Encourage 2024 will be shared on our social media pages as well.