Hospice Care for Veterans
June 29, 2021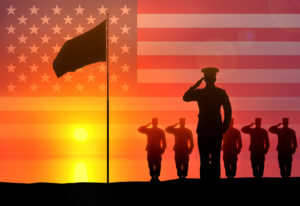 Are you considering hospice care for a beloved veteran in your life? If so, thank you for supporting their end-of-life transition and honoring their service! Know that you aren't alone during this difficult time.
Thousands of families go through this same process. In fact, veterans make up a larger percentage of hospice care than any other group of Medicare recipients.
We encourage you to continue reading to learn all about hospice care for Veterans.
Hospice Care Benefits
Hospice care offers a variety of benefits for civilians and veterans alike. It may be the most compassionate option for a person who has been diagnosed with a terminal or life-limiting illness.
During the end-of-life transition, families can become overwhelmed. Changes include countless life-altering decisions, dramatically modified daily routines, numerous appointments, and unanswered questions. It can be difficult to know who to turn to.
This is where hospice care comes in.
The right provider can help you navigate these challenging waters and feel supported while you do it. This includes helping to identify the physical, emotional, cognitive, and spiritual needs of the patient and caregivers during this difficult time. 
Care can be provided wherever the patient calls home, whether that is in their own home, in a nursing or assisted living facility, in a hospital setting, or at a hospice care center.
Hospice vs Palliative Care
Unlike palliative care, hospice does not seek to treat or cure medical conditions. Instead, it focuses on comfort and quality of life.
This may include help with daily living activities like bathing, dressing, grooming, and toileting. Social workers, music therapists, bereavement coordinators, chaplains, and even volunteers might also be utilized. These individuals can help address the psychological and spiritual needs of patients and their families during the end-of-life.
Most importantly, hospice and end-of-life care can help to manage uncontrollable symptoms.
These often include pain, nausea, and shortness of breath. The main focus is on the patient's comfort and goals, allowing them to spend more quality time with family. 
In some cases, families may prefer to care for a loved one at home throughout their end-of-life transition. In these situations, respite care may be offered, providing relief for primary caregivers. This can help to avoid burnout and maintain a balance between care and life for family members. 
Specialized Services for Veterans
Veterans have special needs when it comes to hospice care. Their individual requirements may be influenced by a variety of factors. These include their combat experience, POW experiences, service-related illness or injury, personal feelings about their time spent in service, and more.
Service-specific life experiences can impact a veteran's physical, psychological, and spiritual comfort during the end-of-life transition. It may be beneficial to work with a hospice provider who understands their unique needs.
Additional symptoms frequently reported by veterans during end-of-life include:
Chronic pain – Military service can be physically demanding. Many veterans experience intense musculoskeletal pain and other chronic pain disorders.
Presumptive diseases – These are defined as diseases associated with exposure to toxins and chemicals. Exposure to Agent Orange and other herbicides are common causes.
Traumatic brain injury – Veterans face significant hazards on the battlefield. These include mines, mortars, and explosives, which can lead to head trauma and damage to the brain.
Post-traumatic stress disorder (PTSD) – This diagnosed anxiety disorder often develops in people who have survived dangerous or frightening events. Sadly, its symptoms often last a lifetime.
Depression – The number of veterans who live with depression is far higher than the national average. However, many have never received an official diagnosis.
Survivor's guilt – Many veterans experience guilt after losing friends and fellow servicemen in combat.
Compassionate Hospice Care for Veterans
Now that you know more about hospice care for veterans, you might have some specific questions about accessing the assistance your loved one needs. Our compassionate care team at EverHeart Hospice is here to answer any questions you may have.