What is the Goal of Hospice? Everything You Need to Know
May 25, 2021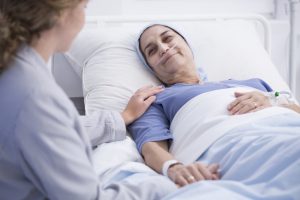 Are you or a loved one experiencing a life-limiting illness? If so, you might be wondering – what is the goal of hospice?
A primary goal of hospice care is to provide the patient with a life expectancy of six months or less with comfort and support. In addition, hospice services allow the patient to focus on their goals and spend more quality time with family members.
Hospice care is a specialized set of services reserved for those diagnosed with a terminal illness or condition and who no longer wish to seek curative treatment. Since every patient's needs are different, no two hospice care plans look exactly alike. However, the overall objectives of hospice services remain similar.
Keep reading to learn more about the goals of compassionate end-of-life care and how hospice care can benefit you or your loved one.
What Is the Goal of Hospice Care?
Unlike palliative care, hospice does not focus on curative medical treatment or intervention. Instead, the number one goal of hospice care is to help patients feel more comfortable and improve their overall quality of life.
Symptom Management
Patient comfort is the primary purpose of hospice care and impossible to attain while pain and other distressing symptoms remain unaddressed.
Our patients receive a full scope of non-curative pharmacological or non-pharmacological medical care interventions and support services, including music therapy that assists with providing emotional, spiritual, cognitive, social, and physical support to the patient and family through music.
Managing your pain and symptoms is also integral in the patient care we provide at our Hospice Care Center, including:
Physical
Cognitive
Emotional
Psychosocial
Spiritual
Emotional Support
This challenging time of transition can take a toll on the patient's mental and emotional health, placing stress on the loved ones around them.
Counseling and support services can reduce stress and anxiety, helping patients maintain a positive outlook. At EverHeart Hospice, we offer bereavement services to everyone, regardless of their affiliation with our organization.
Our Hospice Program includes bereavement support for families of the patient for 13 months following their death.
Personal Care
Mobility issues and other symptoms may make everyday tasks like bathing, eating, and dressing difficult for someone with a life-limiting illness. Having support from our health care professionals of our hospice care team, including a hospice aide, can help with personal care and helps patients keep a healthy routine. It also helps them feel more like themselves and more in control of their life and situation.
Respite for Caregivers
The round-the-clock assistance required by hospice patients can strain even the most dedicated families, resulting in exhaustion and an imbalance between care and life.
Respite care can help. This short-term relief for caregivers can last up to five days, allowing for decompression and self-care for primary caregivers caring for patients in their homes. During this time, the family and caretakers can rest easy, knowing that their loved one is in excellent hands.
Is it Time for Hospice Care?
So, what is the goal of hospice care? Simply put, it is to keep you or your loved one comfortable focused on enjoying life and spending time with friends and family for as long as possible.
Still not sure if this type of care is the right fit for your specific situation?