What is Hospice Care? A Guide to Understanding Hospice
May 4, 2021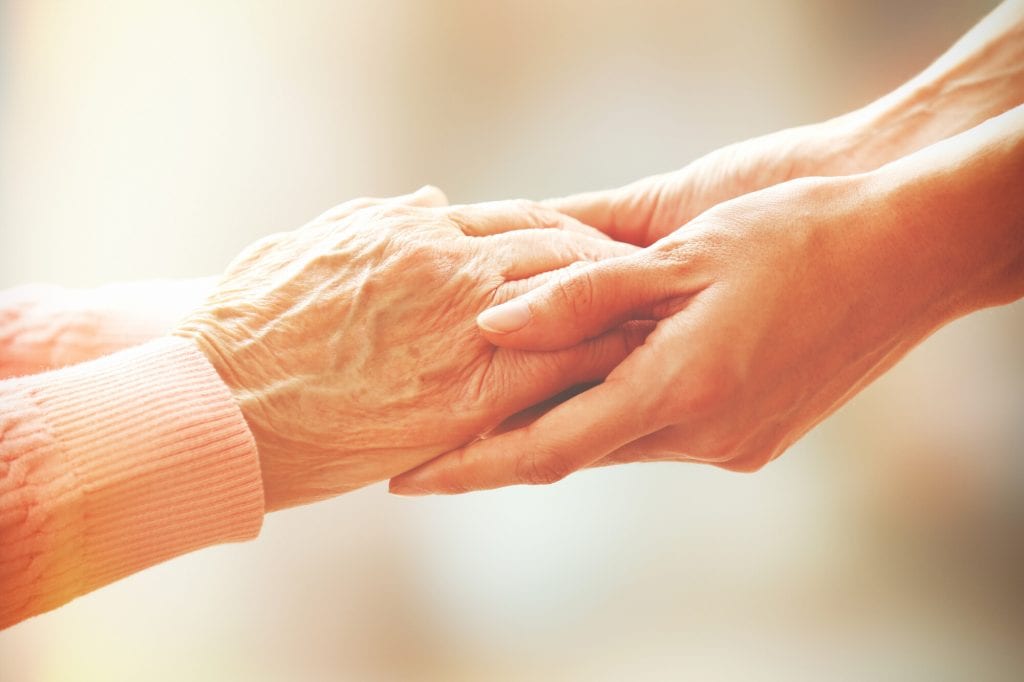 Table of Contents
In the United States, 4,300 hospice organizations provide treatment and care for up to 1.4 million patients. With those numbers, you can take comfort knowing the hospice's focus is on quality and compassionate end-of-life care.
Hospice ensures that the person spends their final days in a comfortable and compassionate environment. If you have a parent, spouse, or loved one who has been diagnosed with a terminal or life-limiting illness, hospice could be an option for their plan of care.
However, you might still need some more information. This in-depth guide should help you better understand hospice care and how it might play a part in your life.
What is Hospice Care and What are its Purposes?
Developing an understanding of hospice care is the best thing to do before you decide for your family member. What does hospice mean for your family and loved one?
The main goal of these services is to increase the quality of the end-of-life experience. The hospice care team has been trained and specializes in end-of-life care. The team at EverHeart Hospice works to ensure the patients are living a dignified life.
Family is also a major component during this end-of-life process. Hospice involves the family members at every turn. The goal is for patients to surround themselves with those whom they are familiar with and love. The family receives constant updates regarding the status of their loved one. The hospice care team collaborates with patients and their families through their journey.
Palliative Care vs Hospice Care
As you research hospice, you may have heard the term palliative care. Though these services have similarities, there are several differences you should consider.
The goal of hospice is pain and symptom management during a life-limiting illness. The focus is quality of life rather than seeking a cure.
Palliative care may be an option for those who continue to seek curative treatment during the early stages of their diagnosis.
Hospice and Palliative Care can be provided in any setting that a patient calls home.
Both services address pain and symptom management and work to alleviate stress from the symptoms of their diagnosis. The choice of palliative or hospice care is a conversation that you would have with your primary care provider and depends on each person's end-of-life goals.
When is Hospice Recommended?
Deciding when it is time for hospice is never an easy choice. Hospice provides care for patients dealing with a terminal illness.
Below are just a few common examples of diseases that may qualify a person for hospice:
Cancer
Heart Failure
Alzheimer's
Cerebral Vascular Disease
Parkinson's Disease
Multiple Sclerosis
ALS
COPD
Someone who begins hospice care either has exhausted treatment options or has chosen to focus on comfort rather than a cure. Hospice is the patient's choice.
Opting into hospice or declining further treatment is a decision between you and your primary care provider. For example, chemotherapy and radiation could have uncomfortable side effects that may deteriorate your loved one's quality of life. On the other hand, if the doctors believe that treatment would help the patient or alleviate the illness, it could be a good option. If you or the patient refuses treatment, hospice comes in to ensure the disease does not cause extra suffering.
There are many signs that it may be time to call hospice. These signs could impact the patient both emotionally and physically. Below are a few examples:
Constant, untreatable pain
Shortness of breath
Vomiting or constant nausea
No longer eating, or decreased appetite
Weight loss
Refusal to take medications
Change in normal sleep patterns
Frequent hospitalization
Inability to perform activities of daily living
These examples do not mean hospice is always necessary. Remember, it is always your decision to choose end-of-life care services.
Many people wish to spend their final days in the comfort of where they call home, whether it be their personal home, long-term care facility, or assisted living setting. Hospice care allows this to happen. EverHeart Hospice trained professionals will be ready to offer support to your family when called upon.
How Do You Qualify for Hospice Care?
Hospice organizations have trained liaisons who can talk to you and your family about hospice services. They, along with your primary care physician and the medical director of the hospice organization, can help determine your eligibility for hospice care.
How Do You Pay for Hospice Care?
People may have many questions regarding how hospice services are covered such as, "Does Medicare cover hospice?" The good news is that hospice care can be paid for in a variety of different ways. Our services can be covered by Medicare, Medicaid, private insurance, private pay, or any combination of these methods. The scope of hospice services is defined by the Medicare Hospice Benefit. Your hospice benefit covers care for your terminal illness and related conditions. Learn more about Hospice Care Coverage view the Medicare Coverage Guide.
At EverHeart Hospice, we never turn anyone away due to their inability to pay.
What are the Four Levels of Hospice Care?
There are four different levels of hospice care. The hospice care team decides which level is most appropriate for each patient. Your loved one may need one or all of these levels of care throughout their journey.
Routine Home Care
This level of care is where most hospice patients begin their journey, in the setting they call home.
Services are provided by hospice physicians, nurse practitioners, nurses, aides, social workers, chaplains, music therapists, bereavement coordinators, and volunteers.
With this level, educational support and pain management are provided in the home setting. Assistance with personal care and light housekeeping is also available. The hospice team will create an individualized plan for any emotional, physical, or spiritual needs of the patient.
Continuous Care
Continuous care is appropriate for patients experiencing uncontrollable symptoms but wants to remain where they call home. Medical staff will remain present until the symptoms are managed.
General Inpatient Care
There may be times when you or your loved one cannot continue to receive hospice care where you call home. General inpatient care is provided in a facility with trained medical professionals available 24/7. This short-term care is provided to help manage uncontrollable symptoms and may include adjusting medications and providing education on the disease process.
EverHeart Hospice created the Hospice Care Center with a home-like environment for patients during their short-term general inpatient stays.
Respite Care
This level focuses on providing temporary relief for caregivers whose loved ones receive care in their home. A respite stay can last up to 5 days and becomes available each benefit period. In addition to providing compassionate and quality care to the patient, EverHeart Hospice recognizes that it is also important to support caregivers during this journey.
Who Works at Hospice?
The hospice team includes a variety of trained professionals.
Hospice Medical Directors and Physicians
Hospice physicians offer expertise in pain and symptom management and bedside visits to the patient as needed. The medical director collaborates with the hospice team and the patient's physician. The medical director, in collaboration with the patient's physician, certifies that the patient is appropriate for hospice care and gives approval for recertification.
Nurse Practitioners
Nurse practitioners work in collaboration with the medical director and provide bedside visits to patients as needed. The nurse practitioner is available to provide evaluations for palliative and hospice care. The nurse practitioner also provides consultations to patients on advanced pain and symptom management.
Nurses
When you start hospice services, you will meet and consult with your designated nurse.
The nurse can:
Provide symptom management
Administer and educate on medications
Provide wound care
Assist with personal care if needed
Assess stress and pain levels
Coordinate care with your primary physician
During this meeting, they will determine an appropriate plan of care for your end-of-life journey.
Social Workers
Social workers come to your home setting. They offer assistance to patients and families handling a variety of financial and emotional issues.
Social workers also help families find available resources. They will go over your insurance plan with you and ensure you understand what is and isn't covered.
Here is a list of some other functions of a hospice social worker:
Provide information on advanced directives
Offer emotional support to families and patients
Help with planning funeral arrangements
Aides
Hospice aides are state certified to provide patient care. They can help perform simple tasks such as:
Hair Care
Nail Care
Bathing
Mouth Care
Range of Motion
Vital Sign Monitoring
Companionship
Assistance with Daily Activities
EverHeart Hospice aides are well-trained and collaborate with the hospice care team.
Chaplains
Chaplains assist with emotional and spiritual guidance. They have a theological education to help those who are more spiritual in their belief system.
They offer an open ear for those who need to speak about their problems and feelings. A chaplain is empathetic and provides calming feedback on how to navigate this difficult time. Since everyone's religious beliefs differ, hospice chaplains offer non-denominational support.
Often a chaplain will:
Pray upon request
Assist with funeral or memorial planning
Listen to your concerns
Provide spiritual support
The support of a hospice chaplain is completely optional.
Music Therapists
Hospice music therapists are board-certified and specially trained to assist with providing emotional, cognitive, social, and physical support to the patient and family through music. The benefits to a patient receiving music therapy can include:
Calming a restless patient
Providing the patient with pain and symptom management
Assisting with feelings of depression and anxiety
Bereavement Coordinators
Bereavement coordinators provide grief support for families who have experienced the loss of a loved one. The bereavement coordinator also provides anticipatory grief support while a friend or loved one is experiencing a terminal illness. The types of support offered can include:
Phone calls
One-on-one sessions
Grief groups
Community grief outreach
EverHeart Hospice provides anticipatory grief support, as well as bereavement services for up to 13 months following a patient's death.
Volunteers
Hospice volunteers are hand-selected and complete training before working with patients. Hospice volunteers help provide extra support to patients and families in a variety of different ways.
Volunteer services may include:
Socialization and companionship
Pet Therapy
Notary Services
Veteran Recognition
If you wish to have a volunteer, you may discuss different volunteer options with your care team.
EverHeart Hospice offers many different volunteer opportunities.
Symptom Control for Hospice
The hospice care team undergoes training to assess a patient's physical and emotional symptoms. They will sit down with the individual and discuss any pain and symptoms they may be experiencing. They ask how the person rates their pain on a scale of zero to ten.
Though this method seems simple, it helps the nurse or physician decide what the best course of action is in the moment.
The staff can adjust medications and educate the family on symptom management. Below are some of the topics they may offer education on regarding medications:
When to take medication
How to take medication
Whether medicine requires food
How many times the patient needs their medication
How many hours there are between doses
Hospice staff members are trained to monitor symptoms, pain, and side effects that patients may feel during their life-limiting illness. The EverHeart Hospice interdisciplinary team meets regularly to review information on the patient's plan of care and is also in collaboration with the patient's primary care physician.
The Role of Family Members
You have support from the entire hospice care team through hospice services. An important part of the hospice scope is including family in the patient's communication and care. The family often asks what they can do to help.
Supporting your loved one is the best thing you can do. Visit, sit, read, or if out of state, connect with them virtually. Staying connected can offer comfort for both the patient and family during this difficult time. Often, end-of-life discussions are difficult. You don't have to have the conversation alone; hospice professionals are trained to provide assistance with these end-of-life discussions.
Your loved ones may have specific requests. Here are examples of some questions you may ask during end-of-life planning conversations:
Do you have a living will?
Who do you want to make health care decisions for you?
Do you have any wishes you would like fulfilled?
Who should handle your finances?
The EverHeart Hospice team is trained to help guide patients and families with these end-of-life decisions and discussions.
Hospice and Grief Support
Handling grief and loss come in varying stages. Hospice can help you with the grieving process. Often, a new terminal diagnosis is difficult for patients and families to accept. Acceptance comes at different times for individuals. Bereavement can help patients and families work through their anticipatory grief. Often, anticipatory grief comes in waves.
Your hospice team or bereavement coordinator can help you with your feelings that might include depression, anxiety, fear, sadness.
Other signs of grief include:
Crying
Guilt
Anger
Feeling of loneliness
Fatigue
Feeling emotionally numb
The need to talk
Not talking enough
No concentration
EverHeart Hospice offers programs, support groups, and one-on-one sessions to help you through the grieving process. A hospice bereavement coordinator is available to meet with you to discuss how you are doing. You can also sit with a chaplain who can offer you spiritual comfort and guidance.
Recognizing grief before death occurs has several benefits to help cope with the other stages of loss. It can allow you to absorb the reality of your situation. You can better understand your feelings at the moment and handle the situation appropriately.
EverHeart Hospice offers bereavement support for up to 13 months following the loss of a loved one. This support is available to anyone in your family, including children. It is also available to anyone in the community who is dealing with the loss of someone they care about.
Hospice Grief Support Groups
A hospice grief support group provides an outlet for your grief. Many people find solace in speaking with others going through the same thing as them. Though this method will not make the pain disappear, it can still ease feelings of isolation, confusion, and anger.
Company
With all of the business that goes into caring for someone and then handling their affairs after death, you might not enjoy the moments of solitude that pop up. Sometimes staying busy keeps our minds from wandering. A support group offers you a break from that. A hospice bereavement coordinator is always available for support by phone, one-on-one meetings, or during a group setting.
Validation
Validation is another main benefit of a support group. When you grieve, you often feel as though you are alone or have feelings of desperation. Hearing other people talk about their grief lets you know that you are not alone.
Provides Coping Methods
Meeting with a group can also provide different ways to cope. Hospice offers support and coping mechanisms that help you recognize and handle your grief. You could find a technique that works for you by hearing how other individuals handle their grief.
Finding Strength
Often, people like to hear other people's stories. Hospice support groups can be a safe place to listen, talk, and share similar feelings. By hearing other stories, you will see that it is possible to survive through grief.
Helping Children Handle Grief
For adults, handling grief can be confusing, which means it is even more so for children. Depending on the age of your child, they may not understand the concept of death.
Children cope in many different ways. You may want to sit down with your child and discuss their thoughts and feelings. Hospice bereavement coordinators are also available to assist with this conversation and help guide you through the grieving process.
Hospice offers bereavement groups for children as well. EverHeart Hospice offers special programs for children throughout the year.
Learn about EverHeart Hospice
EverHeart Hospice reaches out its hand to you and wants to make this path easier. Our goal is to provide you and the patient with exceptional and individualized quality care. We serve our communities by providing compassionate Hospice and Palliative Care to patients and families experiencing a life-limiting illness.